I think a few things are becoming obvious as the band grapple with the nervous divide between fumbling pop youthfulness and the stodgy progressive flab of maturity; there's a band the Artic Monkeys think they are, there's a band the public think they are and there's a band the Arctic Monkeys think they should be. It's a level of self-consciousness most people achieve by the age of fourteen when a lad's sense of identity veers between gauche, compliant child and touchy, contrary teen. 'Humbug' was a stab at maturity and with maturity comes muscle. The arrival of Josh Home was like the arrival of eggs and protein shakes in the midst of all that gushing growth hormone. The riffs were more muscular, the beats more beefy and Alex and the boys exchanged the skinny-fit jeans for heavy-duty boot-cut 501s. The string drawn tight around their scrawny Primark midriffs had been replaced with bulky belts and buckles and the Tennants Super replaced with Stout. In this respect the band's new album 'Suck It And See' is something of a compromise. They haven't slimmed-down entirely, just got more ripped, the 50lbs of muscle Josh Homme slapped on getting the kind of definition lean athletes aspire to.
'Brick By Brick' is still beefcake Monkeys, taut Deep Purple riffing and more hard rock posturing from Alex than a Datsuns-Mars Volta sandwich but this time there's a perky, bumblegum jouissance about it all, a light heartedness and a joy that was missing from 'Humbug'. And much the same could be said of the steamy 'All My Own Stunts' and 'Library Pictures' – which owes as much to the smoky tremelo of Joe Meek's Tornados as it does to raspy, leaden blues of the Zep.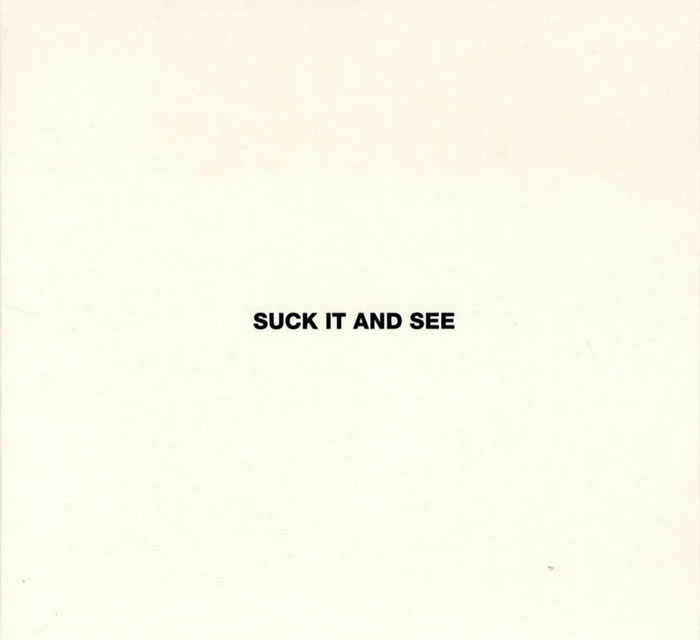 It's not a radical combination by any means. Even the Monkees were a garage-band of sorts and producer James Ford has clearly mastered the sweeping sixties retro he'd showered liberally over 'The Age of Understatement'. Let us agree on one thing; when they promised a more 'vintage' style they weren't necessarily talking vintage Monkeys. Many of the songs here are 'vintage' in the same way Richard Hawley is vintage; melting fifties chord-progressions, jangling, wide-screen arpeggios, instantly hummable choruses and more ferocious crooning than a Bobby Darin/Paul Anka face-off. 'She's Thunderstorms' will have even the angriest of youths blubbing into their Buckfast tonic, and the lush, crashing harmonies of the title-track, 'Suck It And See' will melt even the coldest of hearts. The nod-and-a-wink oneliners are still all present and correct, and the volume of double-entendres still roughly exceeds that of the average Carry On film but this time it is meted out with the kind of dreamy sophistication that even Morrissey would be proud of.
More High Green than Homme, definitely, and, dare I say it, probably their most accomplished record to date.
share this: