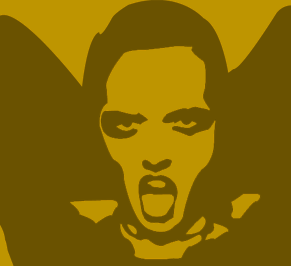 Inspired by the extraordinary success of our former employers, the Drum and Bass Arena we launched Crud Magazine in Sheffield in July 1999. Whilst Crud never achieved the commercial success of the Breakbeat website, it became something of a refuge for solitary Internet misfits and industry professionals, regularly attracting audiences of 250,000 visitors a month. And whilst we could never be credited with putting Sheffield on the map, we nonetheless helped pin an attractive Google Map marker on a small spiritual quarter of it.
As 'editor' I was lucky enough to work with some of the best and most-clued-up independent record labels and music agencies in Britain and the United States. Special thanks go out to all who contributed over the years: James Berry, Allan Kemler, Priya Elan, Jason Thornberry, Don Sill, Will Jenkins, Serena Wilson and Gracie Wood at Nile-On, Aaron Sylvester, Debbie Ball, Natasha House, Irfan Shah, Paul Sandell of Domino Records, James Smith at EMI, Inge Colsen at Girlie Action, Lucy Beer … and everybody else.
Over the 13 years we were active we conducted interviews with The Strokes, Richard Hawley, Sonic Youth, Richard Ashcroft, Coldplay, Elbow, Goldfrapp, Bradly Drawn Boy, Editors, Scritti Politti and also the shamelessly less durable offerings like The Throne Of The Third Heaven Of The Nations' Millennium General Assembly.
The site was used primarily as a springboard for emerging writers and as a fueling station for freelancers looking to maintain a healthy contact base. And also just for something to do.
Where are they now?
Mr Berry went on to work for The Independent, Metal Hammer, Q Magazine, The Daily Star and various international publications. Priya became fashion editor at The Guardian after a stint at the NME. Irfan Shah eventually went on to co-produce and write the crtically acclaimed documentary, The First Film featuring Sir Tom Courtenay and Sarah Lancashire. Orange County's Jason M. Thornberry went on to write for a bewildering shower of publications including Seattle's alternative newspaper, The Stranger. Veteran editor and reporter, Gary Hill who made several generous and significant contributions, continued to work for Reuters in New York where he retired in 2013. His Music Street Journal website can be found here. The infinitely more dedicated and resourceful Marc Sallis who submitted a handful of reports in the early noughties went on to join The Duke Spirit and launch Artrocker in 2004.
I pissed-off and embarked on a languorous life with my young family in the Highlands of Scotland, where I continue to dodge success on a regular basis. Not always by design.
Today Crud Magazine is being maintained as little more than an archive … but from time to time the beast may stir from its sleep. Or drift into a deeper vegetative state. One of the two.