Pathfinder, popularizer and baldy Gabble-pioneer Peter Gabriel defies Scotland's umpteenth weather-bomb for three-course run through the hits. The 'So' album played in it's entirety from start to finish plus hits electric and quiet.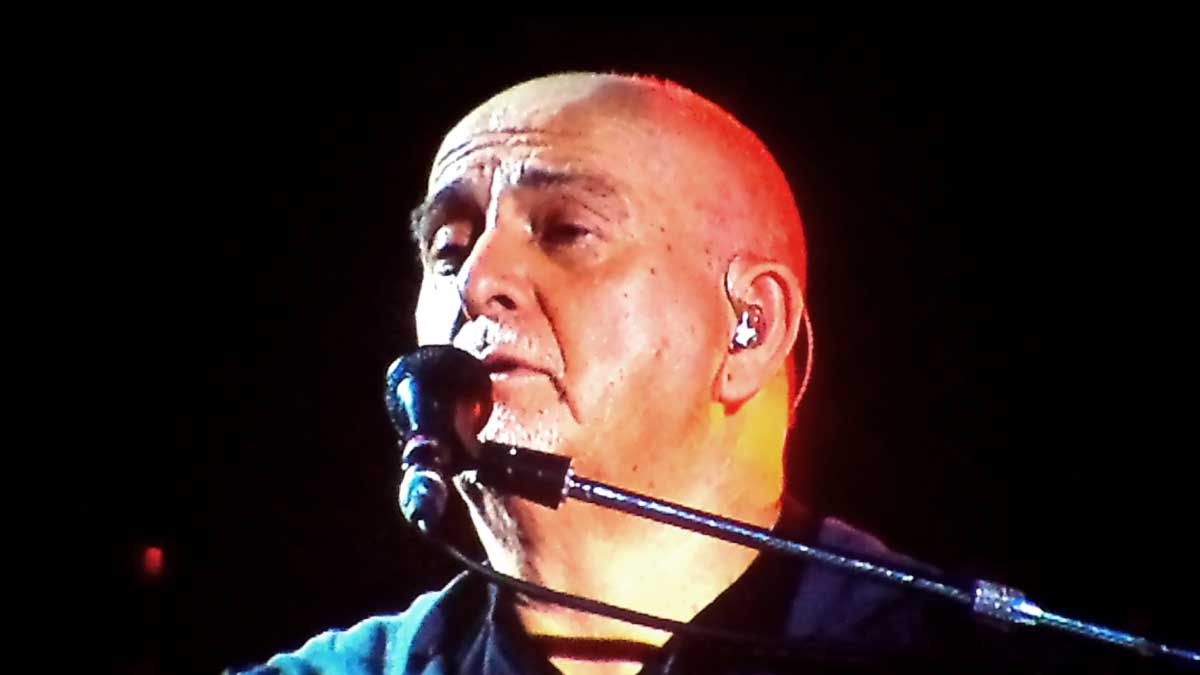 Former Genesis frontman and fox-headed, chameleon flower-stomper Peter Gabriel put on a stunning show at the Exhibition Centre in Aberdeen on Monday night. In spite of initial appearances, it wasn't a tough sell. The 3000 middle-aged fans who'd braved Scotland's erratic  'weather-bomb' remained in such an attentive state that even the fist-raising anthem, 'Biko' failed to lift bums off seats. Whether it was the intensity of the performance, the deeply analytical songs or osteoarthritis, hips didn't wiggle, arms didn't wave and no one screamed off-key.  We sat, we observed and words of eternal gratitude fell from our lips like prayers. Somehow, we'd parked up on the Bridge of Don Industrial Estate and found ourselves at Mecca. Whether it was awe that left us speechless or early onset dementia only time (and a full medical) is likely to tell.
Gabriel's intuitive and often surreal grasp of new media has allowed him to overcome the limitations of performance and boost the existing characteristics of the songs themselves; the technology altering the crowd's capacity for engagement and extending the emotional range of the already touching 'Mercy Street' and the frankly disturbing, 'We Do What We're Told'. The bleak, monochrome set, pitched somewhere between the silhouette theatre of Steven Berkoff and some Russian dystopian nightmare, provided a clean and unfussy screen onto which Gabriel projected his dreams. It wasn't just an enormous technical achievement, it was an artistic one too. The spectacle produced at Monday's show didn't just serve as eye-candy, it tore down the wall. In the cold, hard and brutally no-nonsense atmosphere of the arena, this generous display gave the forlorn and contemplative, 'What Lies Ahead' a poignancy and immediacy few artists could summon even in the smallest venue. It was instant back-stage access. Whether you knew all the words to Sledgehammer, or whether they eluded you as nimbly and definitively as a hit of equal magnitude eluded Peter in the 1990s, you were fully immersed in Gabriel's secret world.
The roving cameras and the lighting booms provided a curiously sinister and industrial dimension to what was always going to be an emotionally charged set. In one memorable set-piece Gabriel was confronted by the lunching arms of the lighting booms as they lashed at the singer during the taut and claustrophobic, 'No Self Control'.  The artist's props were coming to life, and the sorcerer, at least for a time, was made a weak and pitiful master.  It was a completely selfless spectacle and as demystifying as it was de-frocking. The theatre took on all the privacy and sanctity of a confessional booth and Peter stood at the end like a man purged.
There might not have been much in the way in the way of laughs but there was plenty in terms of redemption.
This is what Gabriel does best: he tears down walls and blurs boundaries. Afterall, how many other shows have you seen where traditionally awkward stage-property like lighting booms and cameras (and even the crew themselves) are transformed into actual cast-members?
Nothing was pre-recorded, everything was live, including the graphics (if you saw the wireframe figures of the band members on the screens they too were rendered in real-time using a bespoke piece of software created by Stefan Goodchild). The movie-editing by George Sinclair and the crew streamed real-time footage to the two giant screens either side of the stage, much of it caught by the band members themselves with their own hand-held cameras.
Even in his 60s Gabriel is still a major innovator, and whilst it would have been interesting to see how social media, smartphone technology and crowd engagement could have been fed into Gabriel's dazzling media slipstream, it was still an amazing achievement.
Check out Gabriel's www.gabble.com to see how he's still building bridges between cultures, and adding a whole new dimension to language.
Set list:
Starters (acoustic):
What Lies Ahead
Come Talk to Me
Shock the Monkey
Family Snapshot
Main course:
Digging in the Dirt
Secret World
Darkness
No Self Control
Solsbury Hill
Why Don't You Show Yourself
Dessert (So album in full):
Red Rain
Sledgehammer
Don't Give Up
That Voice Again
Mercy Street
Big Time
We Do What We're Told (Milgram's 37)
This Is the Picture (Excellent Birds)
In Your Eyes
Encore:
The Tower That Ate People
Biko
share this: