Able-bodied Northerners, Starsailor trim the mainsail and unfurl the spinnakers ahead of new album release, 'All The Plans' with low-key gig in London. Sh*tloads of photos and tour dates included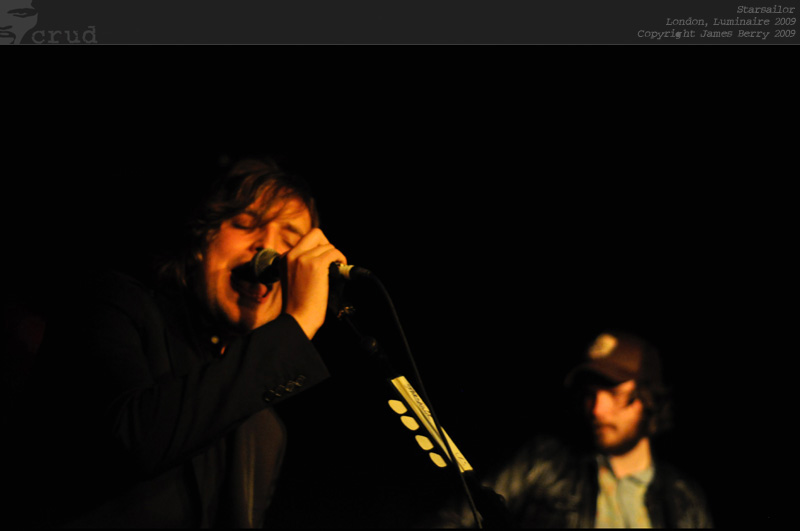 Don't ever go claiming that middle of the road, moisturised Coldplayers like Starsailor don't suffer for their art. James Walsh literally took a shot up the arse tonight, he informs us, in order to play this low-key club comeback ahead of fourth album 'All the Plans' – OK, it was from a doctor and probably a smooth-talking private practitioner at that, but his and the band's professionalism shouldn't be mocked. We're reminded of how behind the Starsailor shop front (about as rebellious and impactful as a BHS window display) there is a pair of lungs like a ship's sail driving a phenomenal voice and a band pure enough of intention who don't waste their time chasing fashions for the sake of it and arty abstractions that don't suit them. Call them unadventurous if you like, but they're made of a firm mettle and deliver a solid set that belies the impression they've earned themselves.
Back catalogue songs like 'Tie Up Your Hands', 'Silence Is Easy' and 'Good Souls' flood from the stage with well worn emotion, perhaps aided by the intimacy of the venue, but nonetheless massaging all the right pressure-points. Lack of directional variations or changes of pitch mean that things are weighing a little heavy by the end of the set, but new songs like 'Tell Me It's Not Over' (which may or may not be a plea to their fans in the current climate) and 'Stars & Stripes' hold their own and will probably settle in over time.
Tour dates
26 Mar Glasgow ABC
27 Mar Manchester Ritz
28 Mar Sheffield Leadmill
30 Mar Liverpool Academy
31 Mar Leeds Met University
1 Apr Wolverhampton Wulfrun Hall
2 Apr Oxford Academy
4 Apr Portsmouth Pyramid
5 Apr Bristol Academy
7 Apr Cambridge Junction
8 Apr Norwich UEA
9 Apr London Shepherds Bush Empire
15 Apr Belfast The Spring & Airbrake
16 Apr Dublin The Academy
share this: