Crud's own seldom seen kid takes a seldom taken look at this year's most seldom seen band. James Berry attends yet another Elbow gig. And who can blame him. New single, 'One Day Like This' out 02.06.08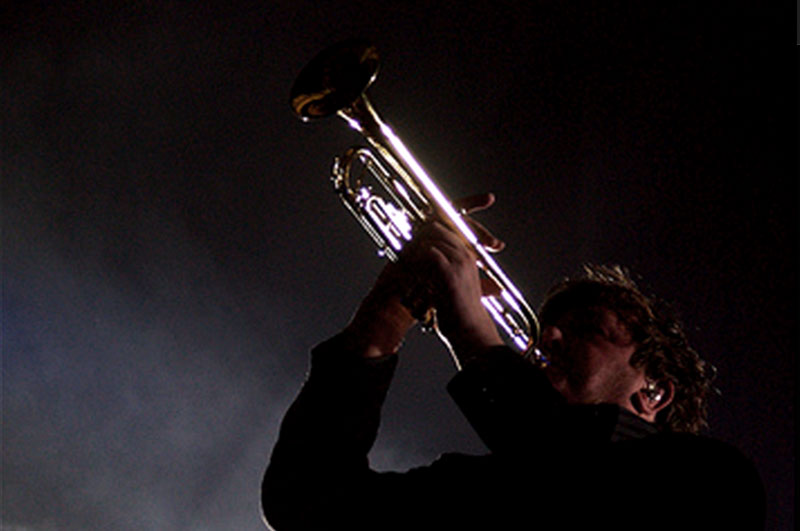 It's one of the great modern pop curiosities. Could we start the rumour now that Chris Martin has accumulated a kidnapped mass of Elbow fans, possibly in a cavernous bunker deep under his snazzy Belsize Park pad where they're starved of daylight and experimented on with snippets from the new Coldplay album, in a bid to suppress the Bury quintet's otherwise inevitable rise and ensure they remain as perpetual underlings? Alright then, you come up with a better theory.
The fact is that every Elbow album has arrived with a party political broadcast style promise of greener grass, an orderly takeover, a melodic revolution from the inside out. And each time that has been followed, true to most political campaigns, by a familiar sinking feeling. And all we're left with are the town hall meetings – hot beds of hope certainly, but insular in the wider scheme of things. Yet they remain the archetypal good guys, they reach out and tick all the boxes, they fulfil their manifesto to the letter and beyond. They don't so much shock and awe, but they do reassure and astound, constantly. Four albums in and they could be the most consistently critically acclaimed band in the UK – like Radiohead but without the extra-curricular absurdity. What more do people want?
As we head into a fresh 'election cycle' though with their fourth successive celebrated album, 'The Seldom Seen Kid', it seems that they could finally be teetering on the cusp of that elusive something they've publicly sought since the turn of the century (privately for much longer). We'd cautiously go as far as to say that something happened tonight, at the culmination of their first tour since coming out of hibernation. Nothing quite as palpable as angels tearing the roof off the Academy and clinging onto the crumbling brickwork with fists raised triumphantly as celestial light gushes in from above and forceful beats and rousing strings bother the foundations below, but about as close as you're going to get without making a claim on the buildings insurance, and achieving much the same end.
'Grace Under Pressure', tumbles hectically atop its breathtaking beats at the close of a near-pristine performance – as indeed it has many times before – assisted ably by the swelling chamber-guitar of a guesting Richard Hawley (returning after faithfully recreating his album cameo on 'The Fix'), support act Two Gallant's quaint recorder and vocal combo, but most importantly the unstoppable, arm-waving, heads-back, sheer bellowing goodwill that's been building up in the audience since early on in the set. It's as though the missing chain link has finally clipped into position allowing the ceremonial winching of a figurative set around them, representing all their aspirations and true potential.
Elbow gigs have always been about a determined trudge towards redemption, generally book-ended by slabs of epic, dots joined by the detail in-between. And yet finding themselves four albums in with an embarrassment of riches, it's big-hitters almost all of the way to the finish for the first time. The reason they are so successful on record is for their compassionate and poetic intricacies, but live it's all about the grand gestures first. 'Forget Myself', 'Station Approach', 'Newborn' and 'Grace Under Pressure', all climaxes in previous lives, stand as stepping stones tonight, not to mention new highs 'Starlings' (gritty, ambient opening fanfare), 'The Loneliness Of A Tower Crane Driver' (swelling showcase for Guy Garvey's staggering, granite tonsils) and festival anthem in the making 'One Day Like This' (three crisp, simmering verses and single extended Polyphonic-Spree-esque outro) sending the venue to critical mass a mere week or two after the album was introduced to the public consciousness.
The songs themselves, even taking into account the advancing quality of 'The Seldom Seen Kid' and its firm refining of their style, have not changed drastically over the years and many of tonight's successes we've encountered in isolation before. But there is a new gait to their presentation, a new found gall in their confidence, and it works wonders. Either Chris Martin's going to have to get a bigger basement or inevitability might finally be able to run its course.
Set List
Starlings
The Bones of You
Leaders of the Free World
Great Expectations
Mirrorball
Red
Grounds for Divorce
Forget Myself
The Fix
(with Richard Hawley)
The Loneliness of a Tower Crane Driver
The Stops
Newborn
One Day Like ThisEncore:
Puncture Repair
Station Approach
Grace Under Pressure
share this: