T-shirts, jeans, unfashionable haircut, modest, alt-rock strained and stretched – and that's just Crud's James Berry. Yo La Tengo – all present and correct.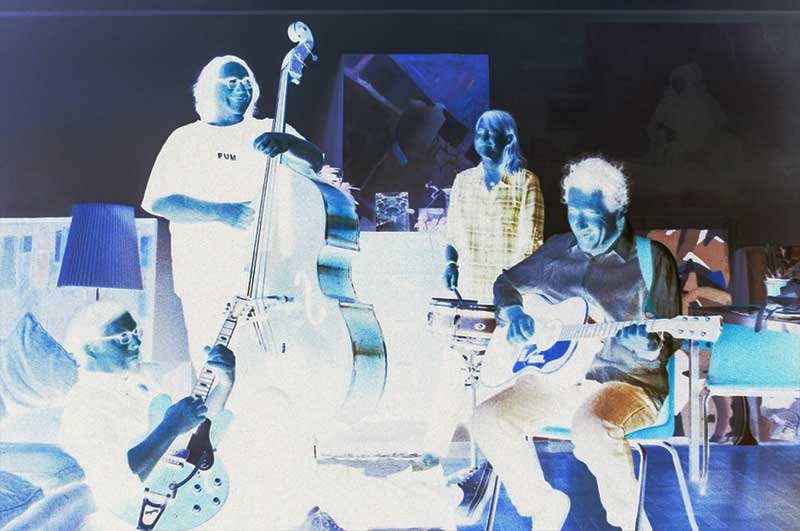 When rock histories are written in future decades (and indeed centuries) you get the feeling that, as now, Yo La Tengo will be sidelined somewhat, if not altogether. Their nearest peer, in terms of creativity, longevity and style, continue to be Sonic Youth – the revered, celebrated, deified Sonic Youth – who a matter of days before tonight played a couple of sold-out retrospective shows amid much fanfare across town at Camden's Roundhouse. Tonight though, on the other side of the river, in more formal surroundings for one night only, Yo La Tengo forge onward as they always do, being quietly innovative and deftly accomplished with little or no hubris.
This is not a Yo La Tengo show in the traditional sense – t-shirts, jeans, unfashionable haircuts, modest lighting, alt-rock strained and stretched, etc. They might be the main attraction and the reason this esteemed performance space is full of quiet, attentive souls nodding gently when appropriate, but the focus is a screen suspended above the stage displaying the scientific short-film works of Jean Painleve. His films, dating back to the late 1920s, were pioneering macro studies of nature, generally ahead of their time in scope, and even sat here some 70 years later in select cases their breathtaking detail, insight and surreal twists can be hypnotic and genuinely breathtaking. Yo La Tengo were commissioned in 2001 by the San Francisco International Film Festival to write scores for a selection of these films and whilst rock musicians providing soundtracks pieces is no new phenomena, and perhaps quite a routine task, the journey tonight – its first live performance – proves this particular pairing to be rather inspired.
There are, as you might expect, sections where the visuals lead the dance – the fragility of soft-toned seahorses reproducing in an abstract environment demand a certain ambience, which with a repetitive analogue synthesised loop and delayed guitar effects sashaying along with the action, they get. But when the band seize back control, like for instance choosing to attack an otherwise mesmerizing, multiplying spread of amoeba (or something amoeba-ish anyway) with searing freeform white noise turns the whole experience quite sinister and disorientating. It's like getting tasered by an unidentified assassin that seems to be everywhere at once, and raises our pulse a notch or two at least. Painleve himself was bit of a rebel, eschewing the educated formality that was the documentary filmmakers' backbone in favour of avant-garde artistry and even humour (relayed tonight via subtitles) to bring his subjects alive and relate his audience to them and this seems to suit Yo La Tengo's temperament down to the ground.
The t-shirts, jeans and unfashionable haircuts (not to mention the myriad and cross-pollinated alt-rock shades) are in fact all present and correct, but concealed beneath a sheath of darkness, small lamps occasionally picking out Ira Kaplan's elbow jerking feedback from his guitar, Georgia Hubley's wandering drumsticks or their necks titling up towards the screen to check their progress. Thus there is no distracting from the convergence of sound and vision, as intended. This could, in fact, be the optimum vessel for enjoying Yo La Tengo.
share this: