Crud asks Scott Hutchison of Edinburgh band, Frightened Rabbit, 'Where's Your Head At?' New single 'I Feel Better' out 22.09.08.
03/09/2008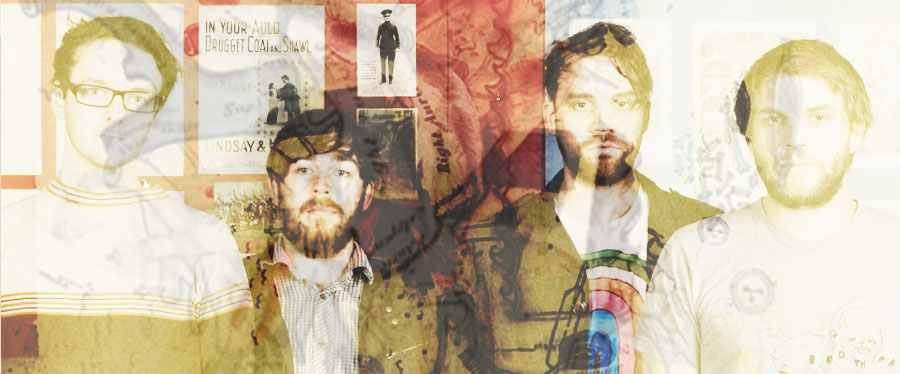 One listen to Edinburgh's Scott Hutchison and my dear, lamented grandmother would have been grasping for a bar of soap to wash the unbridled filth from his mouth, such is the rude, rumbustious health of the language on Frightened Rabbit's fucked-up second album, 'The Midnight Organ Fight', a candid and discourteous account of Hutchison's break-up with his girlfriend, his run in with his replacements and the vital parts of cripples dissolving in Scottish rain. Recalling the squalid uncertainties of love, life and friendship in a way Carole King's Tapestry was never quite able to, the album — and upcoming single, 'I Feel Better' – bristles with resentment, buzzes with brutal, stabbing guitars and purrs with terrifically wallowing, wound-licking consolation. It's not about getting mad or getting even; it's about both. So how does it feel having moved from the 4-track to the 12-pack and becoming a fully-fledged band? Well we didn't really bother asking. Ahead of his headlining tour of the UK and his shows with the indefatigable, Death Cab For Cutie we simply handed him a pen, a series of random questions and a box of tissues. And this is where's he at.
Where are you now and what can you see?
I'm in front of the computer in my parents' house. The selection of items in my field of vision includes a severed finger, a TI-502 calculator, a scalpel, a paperweight with a head in it and a black pen.
What was the last thing you ate?
A slice of toast with butter on it.
What was the last thing you loved really quite passionately?
Miss Marji Kenoedy
What's the next piece of music you intend to buy?
Youth Novels by Lykki Li – saw her a Summer Sundae and I fell for her sound immediately.
What was the last film you saw?
In Bruges. I was a little too drunk to enjoy it, but perhaps it was just rubbish.
Ever had a recurring dream? What is it?
The one where all my teeth crumble and fall out is the one that happens fairly often. My brain rarely lets me have any fun in my dreams. Even in the sexy ones there's always something going a bit wrong.
What is the most important thing you've ever done?
The thing with the most impact has been writing and releasing the last Frightened Rabbit record. Life got WAY better after that.
Where in the world do you still want to go?
Asia. I've never been to a place where the culture differs significantly from our own. Apart from Hawick in the Scottish Borders.
Where or how do you feel most comfortable?
Beds are comfortable, and I've recently realised that i do feel at ease when we're on tour. At home, I have been getting restless and unsure what to do with all this time. I like the daily rhythm of being out on tour.
Any plans for tomorrow?
I'm going to go to Edinburgh to get some things printed. Might have a wank too.
'The Midnight Organ Fight' is out now on Fat Cat Records
'I Feel Better' single out 22.09.08
Tour Dates – Headlining
Thr 4 Sep Brudenell Social Club Leeds
Fri 5 Sep Night and Day Cafe Manchester
Thr 4 Sep Brudenell Social Club Leeds
Sat 6 Sep 229 London (Fistful of Fandango)
Sun 7 Sep Free Butt Brighton
Mon 8 Sep Pure Groove Records London (Afternoon Slot)
Mon 8 Sep Orange Rooms Southampton
Tue 9 Sep South Street Reading
Wed 10 Sep Firebug Leicester
Thr 11 Sep The End Bar Newcastle
Sun 14 Sep Andrew Lane's Theatre Dublin
Tue 16 Sep Student Union Dundee
Thu 18 Sep Nov Corn Exchange Edinburgh
Fri 19 Sep Loopallu Festival Ullapool
Sat 20 Sep FatCat Festival Antwerp
Sun 21 Sep The Cave Edinburgh (Tennent's Mutual Presents)
Thu 25 Sep The Mill Edinburgh (Free Show – Presented by Miller Beer)
Tue 30 Sep Arches Glasgow
Thu 2 Oct Hoxton Bar and Grill London (Concrete and Glass Festival)
Tue 18 Nov Hoxton Bar and Grill London (Clash Music Night)
with Death Cab For Cutie
Wed 12 Nov St. Georges Market Belfast
Thu 13 Nov Ambassador Theatre Dublin
Fri 14 Nov Corn Exchange Edinburgh
Sat 15 Nov Rock City Nottingham
Sun 16 Nov Colston Hall Bristol
Mon 17 Nov Carling Academy Sheffield
Wed 19 Nov Corn Exchange Edinburgh
Relevant sites:
https://www.frightenedrabbit.com/

Alan Sargeant for Crud Magazine 2008©
share this: