Pulp, the Longpigs, Crud Music Magazine, the Human League- all Sheffield through and through. None more so, though, than Richard Hawley. Richard and Buddy Holly hitch a ride up North and hang out with cheery old Scott at the Washington. What could be better? Interviewed by Allan Martin Kemler.
Back in the fabled days of yore, when rockers wore Brill cream in their hair and two-tone wingtips on their feet. Back when it was still acceptable, if not positively de rigueur, to be accompanied by an orchestra. Back when music was still recorded by geniuses in midnight studios, where electric signals were shot through vacuum tubes and copper wires and burned onto acetate, back when music was still pure, that's where Richard Hawley's music lives.
Stepping from his bed in the still of the night to scratch out vague melodies of contrition and woe, Hawley is a man haunted by the memories of a bygone era, of trips to the market with his mum, of bingo halls in Blackpool on holiday and Scotty Moore licks learnt at his father's knee. Like Kronos himself, Hawley manages to step back through time and capture the essence of what made such luminaries as Buddy Holly, Roy Orbison and Scott Walker legends.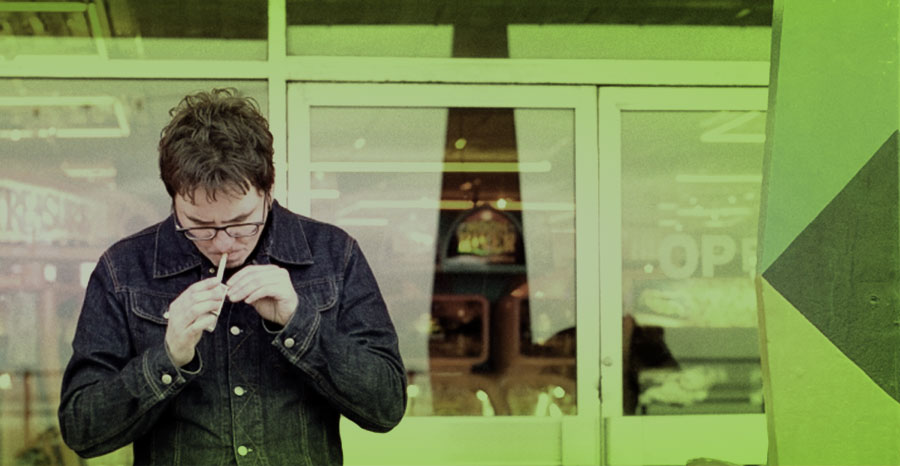 Of course, Hawley is no misty-eyed dreamer sadly reminiscing about the days back when. Rather he's a modern man about town, living in Sheffield and playing guitar in one of Britain's most celebrated bands of the last half decade — Pulp.
But Hawley isn't standing in Jarvis Cocker's shadow any more. With the release of his new solo album 'Late Night Final' (Setanta), Hawley not only steps out from the shadows, he confidently strides into the limelight with a collection of songs so elegant and graceful as to recall the best jazz, country and western and rhythm and blues artists of the 1940s and '50s.
But no matter how beautiful the finished product, the seeds of the songs themselves were wrung out of dreams deep in the night.
"Half of them I was half asleep," recalls Hawley from a recording studio in Sheffield, "and I'd kind of wake up in the middle of the night and these bloody melodies would be in my head, so you kind of have to get out of bed and work the fucker out. Sit down, work it out—I just threw them on a Dictaphone tape and then I'd go back to bed, because once it's out I can go back to sleep." Whether they're the stuff of dreams or just one man's attempt to recapture the golden tones of yesteryear, Hawley's songs ache with sincerity and shimmer with the glittery shine of moonglow on lame´.
The album's opening cut, for instance, Something Is…!, spins a lovelorn tale of two star-crossed lovers into a danceable novella in shuffle time. "Yeah, I'm leaving on the next train that's blowing round the bend," sings a cavalier Hawley to his would-be lover, "and I'll be there by the morning and I won't be back again." While Love of My Life sweeps out of the closet of Hawley's mind, a whispered melody trembling with tremolo, pinned to the earth by a lone cymbal gently swishing in the background.
But whether he's lamenting the cold wind that accompanies restless spirits as they shamble from town to town or singing of the simple pleasure of listening to the rain with his love, Hawley treats each song with the delicate care of a journeyman craftsman turning simple melodies into eloquent statements that communicate lifetimes of meaning with the subtle shift of a plaintive chord against a few notes pecked out on an old piano.
"I'm not interested in fashion. I really despise the idea of glamour," sighs Hawley, explaining the album's guiding principle. "The only brief, without sounding cheesy, is I wanted it to sound romantic."
Mission accomplished. Like a woman who understands there is something sexier about leaving a few things to the imagination than putting everything out for show all at once, Hawley's songs hint at the edges of faded memories and half-recollected dreams with faintly familiar wisps of melody and a lexicon full of American cultural references to create a palette of classic sounds without stooping to mere mimicry or outright plagiarism.
"It's quite ironic that the thing I went into the studio with, a world weary thing I thought no one was going to like, was the right thing in the end," confesses Hawley. "It means I was right, that that kind of stuff fundamentally means more to people than the stuff that's just churned out."
Quite so. But Hawley's path to solo success was nearly left undiscovered until an extra week's worth of studio time was converted into a personal challenge to see if the perennial sideman could cut it with his own songs using his own voice.
"It was kind of an accident," explains Hawley. " I'd got some studio time left over after a session, so I went in and wrote seven songs in seven days to see if I could do it. Initially, I was looking for another singer, and then I just got really, really drunk and I sang the Coming Home thing. The next day I heard it back and I thought, 'Not too bad.' Because I've never really ever sung in my life, I thought people would laugh. But I'm quite chuffed because not too many people are actually laughing."
Released in Europe this past October, the album has won rave reviews from such tastemakers as NME and The Guardian, and has been well-received in Germany, France and Spain, where Hawley has been playing concerts and festivals to support the new record.
Nevertheless, Richard Hawley is philosophical about his achievement.
"I went on tour with Frank Black and the Catholics and I was shitting myself. I just thought, 'Christ, there's all these hardcore surf punk kids and they're just going to hate what I do,' and they loved it. And that, fundamentally, that's what it's about: I've done it and now it exists."
Live in February – UK Dates
Fri 22nd – Manchester – Hop & Grape
Sat 23rd – Sheffield – Leadmill
Sun 24th – Glasgow – King Tut's
Tues 26th – Portsmouth – Wedgwood Rooms
Wed 27th – London – Cargo
share this: